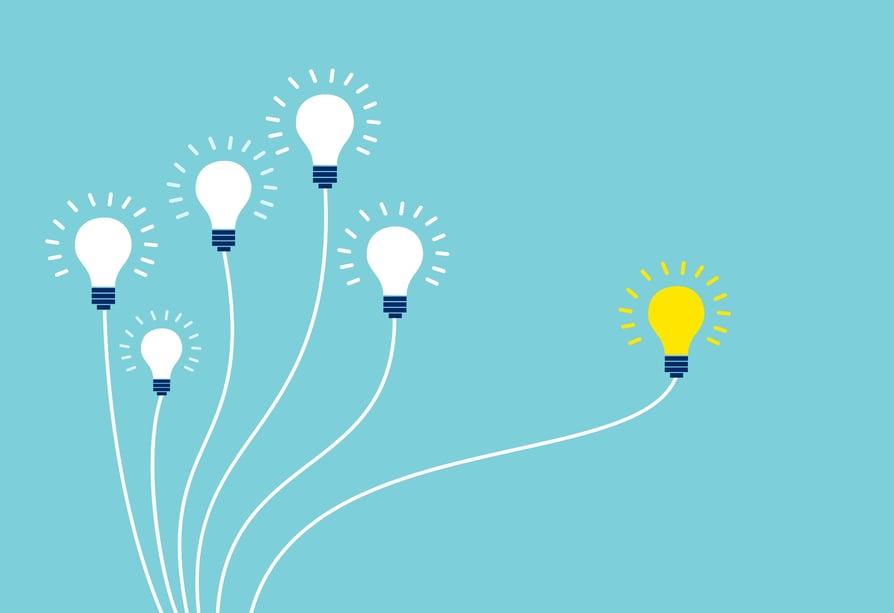 Previously, on the Brand chemistry blog, we told you why you need a LinkedIn thought leadership strategy. And in this week's episo... I mean, blog, we'll break down what that strategy should include.
In short, we'll take you through the anatomy of a successful LinkedIn thought leadership strategy, including defining goals and aligning business objectives all the way to creating an editorial calendar.
Let's get started!
Align with company values and explore your point of view
While it would be boring and bland if everyone at your company agreed on anything and everything, when it comes to your thought leadership strategy you'll need to be clear on your company's key purpose, values, vision and perspectives. Without this clarity, there is the opportunity for inconsistencies and contradictions to occur in the content being shared by your company leaders on LinkedIn.
Avoid the hassle altogether by asking leaders a few key questions and coming to a consensus on their answers:
What does our company stand for?
Where is our industry/product/service going in the future and do we fit in?
What sets our company apart from others?
The answers to these questions will give you a broad understanding of your company's point of view and you'll be able to use this as a foundation for your LinkedIn thought leadership strategy.
Set your goals
Thought leadership can roughly be divided into three categories:
Industry: focused on the news, trends and stories which are shaping and transforming your industry

Product (or service): focused on sharing product and/or service best practices, practical guides and strategic direction
Organisational: focused on showcasing company purpose, vision, innovation and unique difference.
While your business leaders could be well across all three categories, when it comes to designing your strategy, choosing one to focus on will be most powerful.
To help you nail down the type of thought leadership which will work best, also consider your overall company goals and objectives and how your LinkedIn thought leadership strategy can support these.
With your overall business goals in mind, think about where thought leadership can help. Some common thought leadership objectives include:
Build and boost visibility, credibility and trust
Attract new prospects
Encourage current prospects and further relationships with customers
As with all your marketing goals, your thought leadership goals should be SMART (specific, measurable, attainable, relevant, time-based).
Know who you are talking to
Before you dig any further into your strategy, you need to consider who your business leaders are talking to with their thought leadership content. While they may be experts in your industry, it won't mean much unless their content is getting in front of the right people or is created in a way that people will resonate with.
So, if you haven't done so already, this is the perfect opportunity to create buyer personas. Buyer personas, when mapped thoroughly, give you a greater understanding of the needs and wants of your target segments. This means you can create more compelling thought leadership messaging for them which is more likely to move you closer to your goals.
Brainstorm content ideas and create your editorial calendar
It's brainstorming time! Now you've got your values, POV, goals and personas mapped out, you can finally begin with planning your content creation. Here are are our top tips for coming up with topics:
Start with passion. Compelling thought leadership is rooted in passion and excitement. Explore where your leadership team's passions intersect with your company's POV, services, products, values etc.
Share a vision of the future. What does the future hold for your industry? Delve into your leaders' visions and predictions, and don't be afraid of making bold statements.
Find the white space. Are there areas or topics which aren't being talked about? Mine these blank spaces as opportunities to share your leaders' unique perspectives and opinions.
Keep it relevant. Always come back to your buyer personas - what do they want or need to hear about right now?
Encourage vulnerability. While your content needs to line up with overall company values and your brand, encourage your leaders to be human on LinkedIn.
While you're in content creation mode, keep these three tips in mind to help you harness the power of LinkedIn and boost your thought leadership impact.
1. Stop, collaborate and connect
Thought leadership is often seen as a one-to-many content marketing strategy, but it is also an effective one-on-one tool to build your network. Use your LinkedIn to connect with fellow experts and offer to collaborate on articles, videos or podcasts (invite them to your platform or offer to appear on theirs). Not only are you making a new connection with your collaborator, but you're also gaining fresh eyes by getting in front of their audience.
2. Avoid being 'salesy'
While a goal of thought leadership might be to make more sales, thought leaders aren't making the ask or sharing 'salesy' content they've created. Rather than selling, thought leadership on LinkedIn is focused on sharing ideas, knowledge, experience and expertise.
3. Don't forget about video
Thought leadership isn't just about written content. LinkedIn supports regular video, Live and Stories. In fact, LinkedIn users are 20x more likely to re-share a video post. Plan to use video as a part of your editorial calendar. Video formats could be interviews, behind the scenes, sneak peeks, Q&As, how-tos... the list is endless.
Bonus tip: Beta test your content on LinkedIn
Researching and writing a long-form piece of content is an investment of time and money that most businesses can't afford to waste. While knowing your personas and researching keyword trends can help keep your finger on the pulse, there is another way to see if your ideas will resonate - a quick and dirty status update on LinkedIn. The character limit means you will need to be brief, but it also means you can test the water quickly and effectively. If your idea floats, add it to your editorial calendar for a longer, more in-depth post.
Once you have a stockpile of content ideas, use your preferred method (spreadsheet, calendar or an online tool like Trello) to plan out when your leaders will create and post their LinkedIn thought leadership content.
Measure results and make improvements
This is where setting SMART goals pays off, measurement time!
Ensure that your LinkedIn thought leadership strategy includes when and how you will measure the outcomes of your thought leadership efforts. Once you have the lie of the land, it's time to learn, adjust and improve your marketing efforts to boost your results.
If you're ready to bring in the experts and hire a digital marketing agency to boost your thought leadership results, we've produced a 7-step checklist to help you choose the best inbound agency for your company.
Brand chemistry is a b2b marketing agency winning your customers' hearts and minds through inbound, brand, content, lead generation and digital strategy. Our marketing specialists achieve stellar results with the latest lead generation techniques.