You may or may not have heard of content or website pillar pages. Pillar pages are the current best-practice way to structure content on your website to be findable by search.
The reason pillar pages are recommended is because search bots find it difficult to understand whether you are an authority on a topic if all of your knowledge is held in disparate blog posts.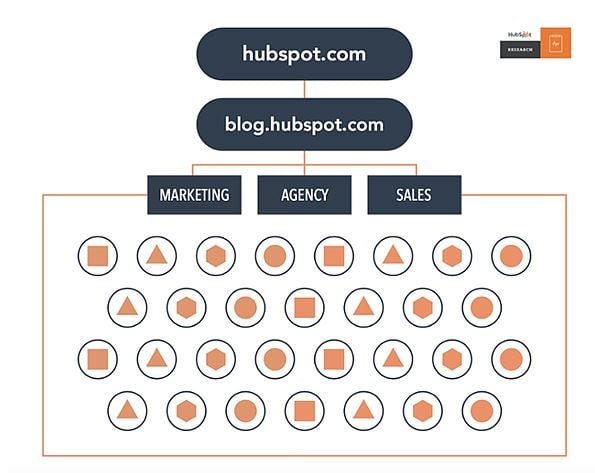 Instead, current thinking states you choose a broad yet tightly relevant topic, and create content based on specific keywords that people would search with, and that relate to each other.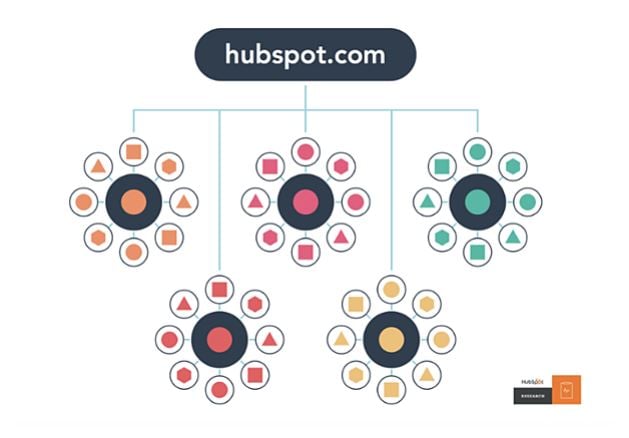 For example, perhaps you want to choose a top level content topic such as Dog Walking. To break this up into three sub-topic keywords, you might choose pet care, pet exercise and dog companionship.
This will result in broader search engine authority around Dog Walking.
If you're considering building a pillar page, it is likely that you've already got plenty of SEO-happy content. So be prepared to audit and restructure some of your relevant blog content. The good news is that you can re-use much of it - it just needs to be organised in a more authoritative way. It may seem daunting at first, but don't worry - it all leads to a great place.
Our top tip? Break this seemingly daunting task into manageable steps.
Below are the steps we took to produce ours. Hoping you find this helpful!
1. Pick your pillar page topic
Choose the broad topics that you want to rank for. The easiest way to do this is to look at your existing products and services. What topics do you want to be known for?
If you can't decide, keep it simple to begin with. We opted for b2b content marketing (but could have gone with brand activation, lead generation, lead nurturing, lead conversion, marketing ROI or any number of things!).
Once you've figured that out, it's time to prioritise the page you'll start with. Go for the low-hanging fruit. Again, we went with b2b content marketing - because it's what we do, day in and day out, and we want our clients to see us as experts in this field.
2. Optimise your existing content
If you're starting from scratch, then skip this step. But odds are, like us, you'll already have content on your website about your topic of choice. You may have even been blogging for years, but you haven't taken the time to go back and audit each post you've created from the beginning.
We decided to combine our pillar page project with a blog audit project, to assess each post ever written for quality and SEO standards.
We exported all of our blog posts, including those that weren't specifically related to content marketing. There were literally hundreds of posts, so we divvied up the auditing between team members.
Then, under a column called 'Grouping', we grouped blog posts by the next action we'd need to take to optimise them.
We also added a column called 'Pillar Page Topic' to the sheet, and included all the topics we'd determined we wanted to rank for (that is, pillar pages to build) in Step #1. When it's time to roll out our other pillar pages, we'll be ready.

Then it was time to optimise the posts we'd determined needed updating in our audit. We also split this up between team members, because in most cases it involved taking a look at keywords, updating links, and including updated, relevant knowledge and including more recent statistics that support this knowledge.
3. Write your pillar page
If you get to this stage, and you have all of your blog posts sorted by pillar page topic, you know exactly which ones will be able to contribute content to your pillar page.
It's important to stress that not every blog post will be able to roll up into one of your broad topics. Only the ones that are 'evergreen' (ie. not likely to 'expire' in terms of relevance in the future).
To create the page, first create a clear structure for your page, and use your past blog posts as content for that page. Remember to link to as many blog posts in that category as possible. And don't be scared by the length of it - while it may look long now, it will be built in such a way that your users will be able to easily navigate through it.
The aim here is to be as informative and helpful as possible. This is the part that needs to wow your users (and search engines), so it's important to get this right.
4. Design your pillar page
Your pillar page doesn't need to be perfect, but, because it will be very text-heavy, it does need to be easy to navigate and a pleasure to interact with.
Make sure you implement a floating module with anchors that allow users to jump between chapters they're interested in works well, helping to navigate the page easily.
Here's what ours looks like: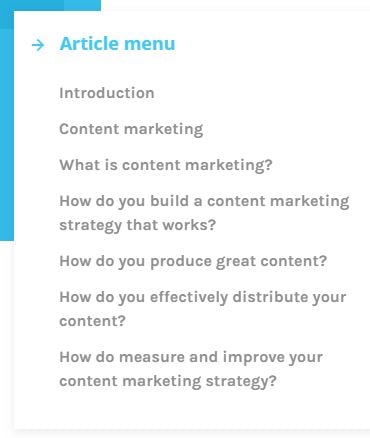 It also collapses so that it doesn't always take up your screen:

The page needs to look as good on mobile as it does on desktop - if not better. So try to keep the layout simple (hint: a one-column template).
5. Build the pillar page
Once the design is approved and the copy is finalised, it's time to build the pillar page!
While you're developer is doing her thang, decide where you want to put it on your website. Make sure it's easy to find in your menu navigation - the closer it is to your root domain, the more the authority (ie. brandchemistry.com.au/pillarpage is stronger than brandchemistry.com.au/subtopic/pillarpage).
But from a UX perspective, it also needs to make sense. We put it underneath "Insights" as its own line item - in second level navigation. Later, we may test having it on the first level to measure the difference in impact.
Make sure that you link to the pillar page from all of the blog posts you used to build it.
Don't forget to thoroughly test on desktop and mobile, with different browsers before you go live. Sounds obvious, but you'd be surprised at what we've seen...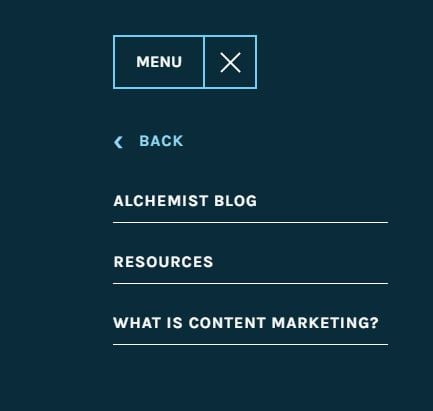 Take a look at the finished product and get some inspo.
Not only will it tell you everything you need to know about b2b content marketing, but it's a great way to see the end-result of a properly thought-through pillar page.
And if you ever need help creating your own pillar page, do give us a call.
Brand chemistry creates inbound marketing strategies and tactics to attract, engage and delight prospects, creating traffic, generating leads and, ultimately, converting more customers.