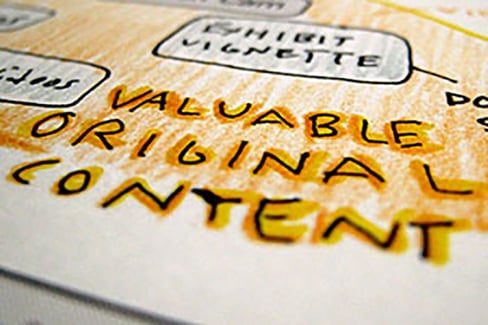 Ever since Bill Gates wrote that 'content is king' way back in 1996, this has become a marketing mantra: so much so, that you're probably getting pretty sick of hearing it. Sadly, you won't stop hearing it any time soon, because Bill Gates was right: the benefits of content marketing are countless (well, figuratively speaking; this article lists 59 of them).
In short, good content that actually provides value to your customer enhances your credibility and creates trust. And being seen as an authority in your field can go a long way in increasing sales. In fact, a survey by DemandGen revealed that 65% of buyers said winning content did have a significant effect on their purchasing decision.
But this is old news. Now that everyone has caught on to the potential rewards of good content, there's a deluge of it, and the flood just keeps on coming.
You can't just rely on customers 'stumbling across' your content through searches any more. For your content to be on that coveted page one of a search engine's results, your content not only has to be one of the best pieces of content on that topic, it also has to have excellent SEO and lots of quality links back to it.
Nor can you just whack a link onto social media and hope for the best. This delightful yet terrifying infographic shows that, in any given minute, YouTube users are watching 4,333,560 videos, and Twitter users are sending over 473,400 tweets. In other words, it won't take long for your content to get buried beneath that avalanche.
This article also shows that the half-life (i.e. the time in which a post will have received half of its clicks) of a Facebook post is 30 minutes. A tweet? A mere 18 minutes.
So how do you get the cream to rise to the top? Well, in content distribution, there's nothing wrong with a little shameless self-promotion.
Paid media
This might seem counter-intuitive to what you're trying to achieve, but bear with us. If you're trying to build a community of loyal followers, this could be a great way to get the ball rolling. Sponsored Facebook and LinkedIn posts and promoted tweets allow you to target that demographic you're chasing as well as extend the half-life of posts and keep them in people's feeds longer.
Google Ads may also give your content the boost it needs to be on page one of the search results, but be aware that this won't be effective for every campaign. They often work well for evergreen content (that is, content that won't date) and queries for general information.
And now there's the option of paid syndication, with services like Outbrain, which promotes your content on the web's largest content publishers, like CNN.com and The Guardian website, and Taboola, a content discovery platform that serves publishers like New York Times, NBC and CBS. These will put your content in front of targeted users right when they're the most receptive.

Earned media
Remember that scary statistic about the number of YouTube videos watched and tweets being published every minute? That's why an influencer (a popular blogger, journalist or media outlet) is worth their weight in gold. After being barraged with content, we count on our influencers to help us work out what's worth paying attention to: and what's not!
According to a recent article, 94% of marketers who use influencer marketing say it is effective and can generate up to 11X the ROI of traditional advertising.
But to get influencers to link to your content is not as simple as emailing them and asking them to.
Earned media is about playing the long game by building relationships over time. Email relevant influencers to introduce yourself (without asking them for anything). Share links with them to other pieces of content they may find interesting. Comment intelligently on their posts. Link to their posts yourself. And when you do finally send them content, make sure it's applicable to their interests, and that the standard of the content is as high as possible.
Once you've laid this groundwork, and differentiated yourself from the rest of the spam in their inbox, you'll find people are much more receptive to what you have to say. The key is making sure your network has been established before you actually need it.
The world of content marketing is a battleground, and brands need to fight harder than ever to earn the attention of customers. But those who put in the time to provide great content and, just as importantly, promote their content effectively, will reap the rewards.
Organisation is one of the keys to a successful content distribution strategy. Get your offerings out of your head and onto the page – download our editorial calendar template today.
Brand chemistry is a strategic content marketing agency that goes the extra mile to deliver results for our b2b clients. Take a look at our client case studies to find out more.