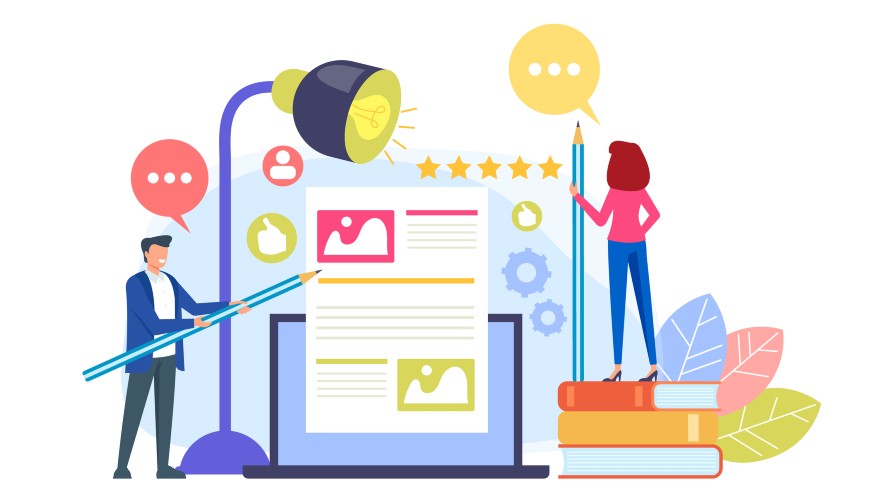 So you're a keen b2b inbound marketer—your website is packed with high quality blogs, ebooks, case studies, videos and more. There's only one problem: no one is finding any of the content you've worked so hard to create.
You probably even know why—your search engine optimisation (SEO) is holding you back. But how do you improve your SEO and reach the elusive first page of Google search results? We're about to show you how!
In this blog, we'll share five ways you can optimise your b2b content to rank higher on Google search engine results pages (SERPs) and start pulling in the leads your b2b inbound marketing strategy deserves.
1. Perform a content audit
First things first, you need to conduct a content audit. This will help you create a complete inventory of all your website assets and analyse how they are performing. Key information we recommend identifying for each content piece is the:
Title
URL
Content type (eg. blog, video, case study)
Category (eg. different themes or products relevant to your business)
Target persona
Buyer stage
Keywords
Meta data (eg. page title, URL, meta description)
Number of internal and external links
Key content metrics (eg. page traffic, SERP ranking)
Once you've collected this information, you need to analyse your content to understand what's working and what isn't. Some questions to ask yourself are:
What content is performing well?
What content is underperforming?
What content is missing?
What content needs updating?
With this information in mind, you can clearly identify what content needs optimisation and how to go about it.
2. Do your keyword research
Keywords have long been the bread and butter of SEO. However, the way we use them has changed in recent years along with Google's algorithm. Gone are the days when marketers crammed as many keywords as possible into their content. Instead, keywords should guide the type of content you create by helping you identify the questions and information that your target audience is looking for, as well as any content gaps that you might be able to fill. Of course, you still want to include keywords in your copy. But choosing a single long-tail keyword and creating engaging, relevant and authoritative content around it will result in a more successful blog than if you write an article so stuffed full of keywords that it's almost unintelligible.
With this in mind, start your keyword research by brainstorming search terms, questions and phrases that you think your target audience is using. Talking to your sales team about the business challenges and pain points that customers and leads face can be illuminating. Tools like Moz and UberSuggest also provide information on monthly search volume and similar keywords that may be popular. Lastly, Google itself is your best friend, both for the search suggestions and related searches that they offer, as well as for ideas on the type of content that is currently ranking well.
3. Add new keywords to old content
Between your content audit and your keyword research, you've probably noticed some areas where you can make improvements. Perhaps when you first started blogging, you didn't do any keyword research, stuffed too many keywords into one blog, or chose keywords that were too broad and difficult to rank for (think short-tail keywords like "marketing"). Or you might have realised that the keywords you're trying to rank for aren't actually what your audience is searching for anymore.
This type of content is low-hanging fruit. You can easily refresh your content and optimise it for Google by choosing a more relevant keyword from your research—we recommend long-tail keywords—or improving the quality of your writing by reducing the keywords you've crammed into one piece. Whatever keyword you choose to optimise your content for, ensure that you include it in all the key places: title, first paragraph, h2 header, meta description, image alt text, URL and the body of your copy where appropriate and natural.
4. Review your content ranking signals
While you're optimising your content for keywords, it's also the perfect opportunity to consider other SEO ranking signals related to content, such as titles and meta descriptions. For each content piece, ask yourself the following questions:
Is your title under 60 characters?
Do you have a meta description and is it under 160 characters?
Does your content have only one H1 tag?
Is the information still current or does it need a refresh?
Is your content internally linked to on your website?
Do your images have titles and alt tags?
Are your images an appropriate size (both in pixels and kilobytes)?
Do you have internal links to other relevant content?
The good news is that if you said no to any of these questions, most of the issues can be fixed very quickly.
Hot tip: Once optimised, you can also republish the blog at a more recent date and leave a note at the bottom with the original publish date. Google favours more recent content (as does your audience), so this is a great tactic to keep your older assets working hard for your inbound marketing strategy—just remember to keep the URL the same!
5. Optimise for featured snippets
Another great way to slide into the first page of Google's search results is to optimise your content for featured snippets. Featured snippets are the preview boxes that appear at the top of Google's SERPs with a quick answer or summary 'snipped' from a site. They most often show up when the search term is a question, and are chosen automatically by Google's algorithm from the listings available.
So how do you optimise your content to be chosen for Position Zero on Google SERPs? While there's no sure-fire way to guarantee success, there are a few things you can do to improve the odds of your content being chosen for a featured snippet:
Answer questions in your content (obviously!)
Answer multiple questions on the same topic in one content piece
Research new questions to answer using tools like Quora or Google's 'people also ask' boxes
Do keyword research to find out if your questions bring up snippets
Keep the answers within your content short and sweet (40-50 words ideally)
Use headers to organise your content
Add a how-to section to your website
Use high quality images and videos
Start implementing these five strategies today and watch your b2b content work harder than ever for your marketing strategy! And if you're still looking for more tactics to optimise your content, keep an eye out for part two of this series, where we'll reveal another five tips!

Want more ideas on how to improve your inbound marketing strategy and attract new leads? Download our free Quick-Start Guide to Inbound Marketing for Technology Companies.