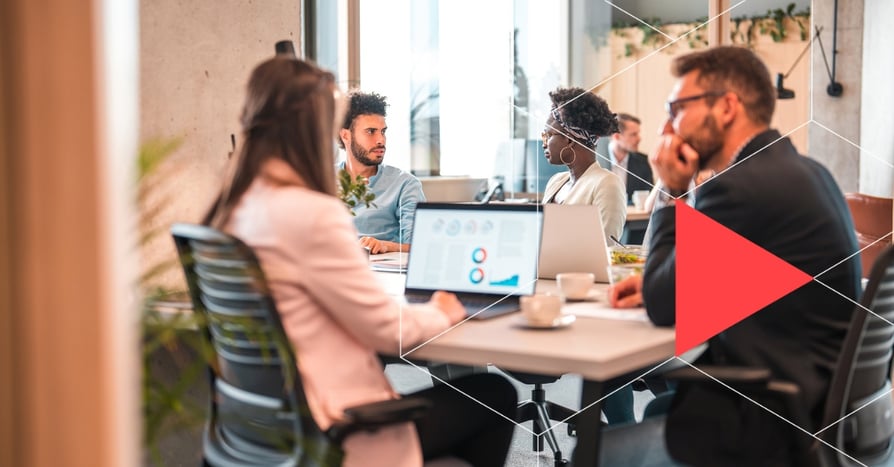 As a b2b business, you might not be fully sold on the benefits of organic social marketing. After all, you're trying to reach entire businesses – is it really worth investing precious time and energy posting a few status updates when you're gunning for much bigger fish?
In reality, though, your organic social media is working much harder for you than you think, even if you aren't seeing the benefits straight away – and, yes, that's even before you've invested a single cent into paid strategies. Businesses are, after all, made of people, and we're willing to bet most of those people interact with social media in some way or another throughout their day.
More and more b2b businesses are starting to appreciate the value of organic social marketing. At Brand chemistry, we love most organic social channels and believe they work better in some cases then others. The moral of the story - organic social matters when you're in b2b.
Still not convinced? Well, here's 9 reasons why you should care about organic social marketing, and why it should be an integral part of your overall b2b marketing strategy.
1. It reminds people that you exist
Seriously. Every status update, event invite and blog post link makes your brand stick in a prospect's mind just that little bit more. This means that when they put together that shortlist of companies that provide your service, you're on that list.
And if you've used organic social marketing effectively, posting about things that have proved useful for that prospect, or shown off some of your business's recent success stories, then you just might find yourself near the top of the list.
In short, an organic social marketing strategy drives brand awareness.
A healthy social media feed also serves to confirm that, yes, you are still an operating business. This may seem trivial, but is actually fairly important.
Think about it – if you looked up a business on social media (as most prospects do when they're doing their research), and they hadn't posted anything for 6 months, would you be beating a path to their door?
We're guessing 'no'. Having all your details up to date, and showing that you are active in the industry will at the very least ensure you don't get crossed off the shortlist, either.
2. It humanises your b2b brand
Unlike the other assets at your disposal, such as your website, your social media platforms give you a unique opportunity to connect with prospects and customers in a more authentic and personable way (as opposed to a corporate robot).
This type of relationship building is difficult to achieve at scale, which is what makes social media so powerful. In fact, 78% of businesses that use social selling outsell businesses that don't use social media, with survey respondents saying it reduced account/contact research time, increased the number of leads, and improved their lead conversion rate.
3. It connects you with influencers, leads and customers directly
Think of all the work you put into downloadables, like ebooks or white papers, in order to get those coveted email addresses, so you can communicate directly with leads.
With organic social marketing, though, connecting with people directly, via comments and instant messaging, is a breeze. Yet, strangely, very few b2b businesses take advantage of this unprecedented opportunity that is presented to them.
On Instagram, for example, you have the ability to send direct messages to people, even if they aren't following your account. That means, with just a little research, you can reach out to potential influencers or prospects that have a pretty good chance of being interested in what you have to offer, without having to wrangle an email address or a follow out of them first.
Similarly, you can use the Instagram search feature to find relevant keywords and hashtags, and connect with those users talking about them; or you can search LinkedIn via jobs and businesses, and directly message people via InMail (if you have a premium account).
Of course, this does not mean bombarding people with messages spruiking your business. There's a word for that: spam. Rather, it's about being thoughtful, showing that you're listening and providing value. It's about saying, "Hey, I saw that you commented about having a problem with such-and-such. We might be able to help you with that."
4. It helps you keep an eye on your competitors
It's important to know what your competitors are up to with their organic social marketing, so you can respond in turn, and following them on social media is one easy way to do that.
Not only should you follow your competitors, but also their followers – after all, there are bound to be at least one or two high-value targets in there, and if you follow them, there's a good chance they'll follow you back.
5. It helps you understand your customer
Playing a part in the conversation on social media is not just about reaching out; it's also about taking in what people are saying.
Whether it's constructive criticism about your product, a post purporting a particular point of view, or even just a comment expressing interest in something you shared, actively listening will help you understand your customer a little bit better.
Data and analytics will play a big role in shaping your understanding of your customer too. Social media monitoring tools showing which posts are generating the most likes, shares and comments can reveal a lot about what the customer is thinking, and what they might be looking for from you. These insights can then be used to inform and refine your buyer personas.
6. It helps people find all the excellent content you've been sweating over
We're obviously big believers in the power of inbound marketing to cement your authority and drive leads towards conversion. But the only way your amazing content can work its magic is if people can find it first.
Organic social media marketing plays an integral role in supporting your b2b inbound marketing strategy by putting your content in front of relevant prospects and customers.
7. It helps you delight your customers with helpful and speedy customer service
Inevitably, you're going to get customers asking questions, posting comments, giving you compliments, or, god forbid, making complaints. The way in which you respond to every single one of these queries will have a marked effect on your relationship with that customer – for better or for worse.
That's why it's important to respond promptly and thoughtfully to everyone who interacts with you, even it's just to say 'Thank you' or to post a thumbs-up emoji.
This is even more important when it comes to addressing customer queries or complaints on social media. If you can deal with these quickly and with aplomb, not only will customers readily forgive any mistakes you've made, but they'll be singing your praises to the roof (see next point). What they will not forgive, however, is poor, neglectful service that makes them feel as if they aren't important to you.
8. It helps turn customers into brand advocates
As a b2b business, your potential customer base is smaller, your price point is higher, and your reputation can be made or destroyed on word-of-mouth. That's why your customers are worth their weight in gold to you.
Retaining a customer is much cheaper than acquiring a new one, and if you can continue to delight your customer (and being responsive and helpful through your organic social marketing is a big part of that), they may just become brand advocates, who will tell anyone who will listen how great you are – and you can't buy that kind of promotion.
9. It can help with lead generation
Though notice I said "can", and not "will". Organic social media is really built for brand awareness and relationship building, rather than lead generation, so it's best to focus on those aspects, and think of lead generation as a happy bonus.
That said, it's not unheard of for prospects to make contact via social media, and you'll only increase the chances of this happening if you put the work into your organic social marketing strategy.
As you can see, organic social media marketing plays an important role when it comes to b2b businesses – neglect it at your peril!
Brand chemistry is a b2b marketing agency winning your customers' hearts and minds through inbound, brand, content, lead generation and digital strategy. Our marketing specialists achieve stellar results with the latest lead generation techniques.