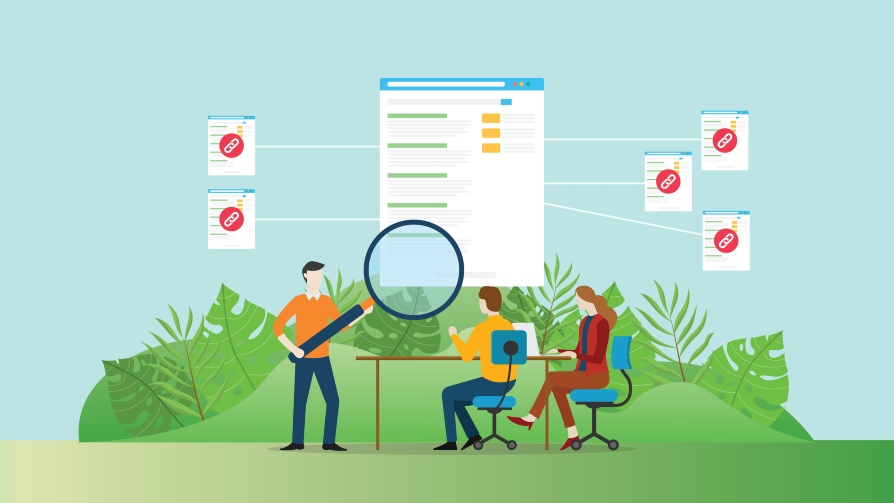 While establishing credibility on the internet can be an ever changing task, one thing that is always important (and always will be) is having good domain authority.
One of the best ways to boost your domain authority is to get 'backlinks' or 'external links'. What are backlinks? They are links that feed traffic from third party websites back onto your site. There is plenty of advice on how to get backlinks, but it's not as simple as it sounds: not all backlinks are worth the same, in fact, having poor quality websites with low domain authority can actually be detrimental to your goal of a better SEO ranking.
It can be a tedious task, but if you go about it the right way, there are fun, engaging ways to garner backlinks that can also help you build relationships with relevant people and companies while you're at it!
So what makes a high quality backlink? And what is the best way to attain them?
Quality backlinks and strategies for how to get them:
First of all, it is important to do some analysis and find what your capacity is for driving backlinks, as well as where to focus your energy. Find trustworthy websites in your field and think about how links to your site might appear on them.
One tactic that we at Brand chemistry would strongly advise against is randomly peppering websites with requests to link back to your page. This cold outreach tactic involves making a list of relevant blogs and websites, and requesting they link to your site. For this type of outreach to work, you will need two things that most startups, new companies and small operations do not have: A dedicated resource that can spend time on the project, and a large backlog of quality content to link to.
Most importantly, this approach tends to have a low success rate and it's unlikely to appeal to sites with a high domain authority - which is exactly where you want your backlinks from. Cold outreach for backlinks is much like running a call centre, if you have the resources to get hung up on a lot, by all means, pepper away, but there are much more proven ways for how to get backlinks.
Like all fields, being good at what you do gets you a good reputation, so simply focusing on writing good content that has a solid brand voice is a great way to generate backlinks to your page. Perhaps add a graph or illustration of data that offers a new way of looking at an idea that other websites will want to share. Most important to this strategy is that your SEO is on point so that your content is findable via search in the first place.
Outreach blog posts that involve interviewing a range of experts in your field is another way to organically farm external links to your page. Often people will share your post on their own website and social media when they are interviewed. You can even go as far as swapping backlinks as a part of the process by linking to the interviewee's page in the initial blog post.
Collaboration in general, especially with organisations that will add insight to the subject of a post is another simple way to enhance the quality of the content as well as receive an external link in return.
Guest blogging for third parties, especially industry publications and journals as they tend to be understaffed and looking for content, can help you build links consistently. Like a football player on loan to another club, you can kick goals for their website and your own using this tactic. Usually in situations like this, you can negotiate to have two or three links back to your own site per post.
This can take time, especially when you need to find the right person to talk to in the first place before building a relationship. It is unlikely that you will be successful pitching a six month guest blogging spot out of the blue. Instead, it is better to pitch the publication on a single topic and work from there if things go well.
Good politicians use the media to their advantage, and you can too, but you don't quite need to resort to the same level of manipulation. Media and press releases can build up backlinks through newswire services. For example, if you have a whitepaper that you need to distribute, disseminating a release via these services can allow you to get the word out while simultaneously controlling the links within the release.
Companies that help your company get on listing sites can offer great returns for a relatively small fee. A few hundred dollars spent now could not only affect your domain authority and SEO ranking, but also bring in immediate clients, which of course is the goal. This can be especially useful in the tech start-up sector which has a lot of directories.
Capitalising on relationships that you already have is key. Government (.gov) and education (.edu) sites automatically have higher domain authority than most other sites, if you have worked within either sector, try to get your links spread on such sites.
Nofollow and follow links:
Just like not all backlinks rank the same, some are specifically tagged to not affect your SEO ranking. These are called 'nofollow links' and while they may not sound helpful, you should not disregard them completely when thinking about how to get backlinks.
Nofollow links were a product of the initial blog boom in 2005 to combat the rise of comment spam. You remember when every second comment was for some dodgy site selling who knows what? Well that was affecting the SEO rankings of those blogs in strange and mysterious ways, so Google created the nofollow tag.
These days, big social media sites use nofollow tags, as well as sites like Wordpress in their comment sections. While backlinks from nofollowed sites like Medium or Quora may not boost your SEO rank, they can bring in very specific and relevant traffic which can positively affect your organic rankings.
Internal Linking - building a pyramid:
For backlinks to be truly effective, you need to have your foundations in place first. When building up your own content pages, think of them as if you are building a house: every post, board and rafter is key to the finished product, but some are doing more work than others. Structurally, you should have pillar pages that you link back to regularly from your blog content. The links need to be relevant and context appropriate, but in doing this, you are signaling to Google that this is important content. Once you have this established, getting backlinks to your pages can bring in the desired effect.
Last but not least, building domain authority and creating quality backlinks take time. However, the work really pays off if you resist the urge to take shortcuts. Always take a long-term strategic view when approaching businesses and bloggers about backlinks. Perhaps most important is the relationship you build has to be built by you. While outsourcing can work in some instances, it has to be personal for these types of collaborations to work and have a lasting impact.
For more tips and tricks on how to build your online business, download our beating the odds guide for tech startups at every stage of growth. Once you know where you stand, it's easy to take the next step.
Brand chemistry creates inbound marketing strategies and tactics to attract, engage and delight prospects, creating traffic, generating leads and, ultimately, converting more customers.