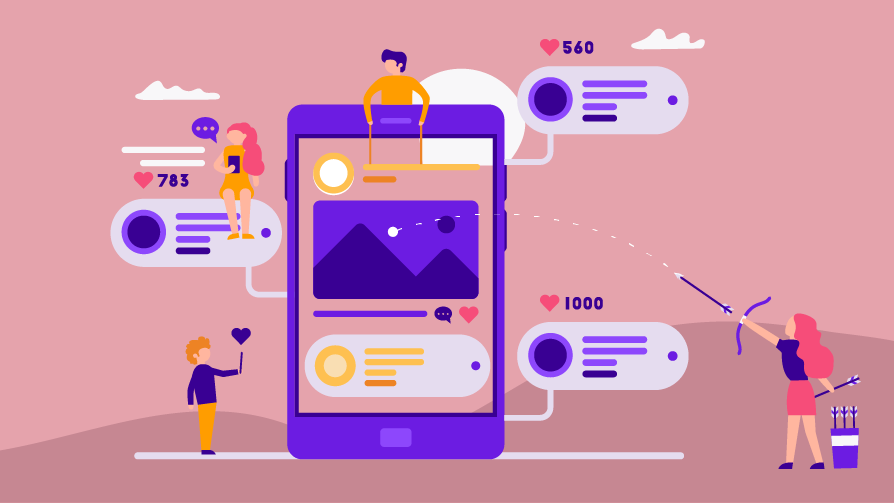 When it comes to b2b inbound and content marketing, social media is pretty much a given.
After all, if one of your main goals is to reach your target audience (and I hope it is, otherwise we have much bigger problems), then odds are you're going to find that audience pretty active on at least one (and probably more than one) social media platform. That's why social media can be such an effective way to generate leads.
But having a strong social media strategy does not mean having a presence on every social media platform that's out there.
You only have limited resources (read: time and money) and you don't want to put those resources where a) they're not going to reach the audience you want and b) they're not going to give you the kind of engagement you want.
Not to mention that spreading yourself too thin across too many channels is a great way to lose followers.
But choosing the right channels for your strategy is easier said than done. There's a lot to consider, from your brand and budget, to your objectives, audience, competitors and even your geographic considerations.
Luckily, we've put together the ultimate b2b social media marketing cheat sheet, which gives you the ins and outs of all the biggest social media platforms out there. If you're confused about where you should be focusing your efforts to get the biggest rewards, then this guide is for you.
LinkedIn
As a b2b business, LinkedIn is in all likelihood going to be one of, if not the most important social media platforms for your company.
Which makes sense, considering it's pretty much built for targeting professionals, and high-level decision-makers in particular – in fact, of the 675 million monthly active users on LinkedIn, four out of five "drive business decisions" in their companies.
Pros
Advanced search and ad targeting functions: Targeting prospects is easy with LinkedIn's advanced search query and ad targeting, which allows you to filter leads and target ads based on industry, location, company size, seniority and so on.
Industry Groups: There is an abundance of industry groups on LinkedIn, many of which also target a geographic region, making it easy to share your content directly with relevant audiences. You want to reach digital marketers in Australia and New Zealand? There's a group for that!
Premium account: Subscribing to LinkedIn's Premium Account gives you access to a plethora of features, such as InMail (which allows you to directly message anyone on LinkedIn, including those you aren't connected to), premium search filters and expanded profiles.
Cons
Great for businesses that…
Are looking to target a highly niche audience: With advanced search functions and ad targeting, and industry-focused groups, LinkedIn makes it easy to zero in on your key demographic.
Want to establish their authority in a field: By providing high-quality content, answering relevant industry questions posed by potential customers, and participating in groups and forums, you can use LinkedIn's tools and features to set yourself apart from your competition as a thought leader.
Practice account-based marketing: LinkedIn's advanced ad targeting platform and direct messaging capabilities makes it ideal for account-based marketing.
Facebook
While in recent years, Facebook's reputation has been tainted by data breaches and fake news scandals, it still remains a social media powerhouse. And with 60% of the Australian population being active users on Facebook, it's simply too big for b2b businesses to ignore.
While the organic reach of business pages may have taken a hit in recent years, there's still a place for engaging and high quality content, especially if it's video, and groups and communities are an increasingly important forum for sharing this.
Pundits are also predicting that augmented reality (AR) and virtual reality (VR) will be huge trends in the coming months and years, and we expect Facebook to be at the forefront of these trends, particularly with the development of their virtual reality platform, Horizons.
Pros
Supports live-streaming: With Facebook Live, brands can easily live-stream product updates and demos, and give a behind-the-scenes peek at industry events.
Groups and communities: Facebook groups are a treasure trove of pre-targeted and engaged audiences. From popular location-based community noticeboards to industry discussion groups, there's something for everyone. So long as you follow the group rules around posting, it's a great way to find and engage with your target audience - especially now that Facebook allows business pages to join and post in groups.
More engaged users: While LinkedIn is where people go for professional purposes, Facebook is where they go to interact with friends and family, and have leisure time. They are more likely, therefore, to check their Facebook newsfeeds often and to be more engaged when they do so.
Cost-effective, highly targeted advertising: Like LinkedIn, Facebook has highly targeted advertising, ensuring you can easily get your brand in front of your target audience. Not to mention it has one of the lowest cost-per-clicks (CPCs) of the big social networks.
Cons
Hypervigilance about privacy: Facebook users are now particularly wary about privacy and how their data is used by third parties, and so they may be restricting access to their data on this platform more so than others.
Great for businesses that…
Want to show off their brand personality a bit more: Facebook is where brands can let their hair down and show a bit more authenticity to their target audience – all the more important for b2b businesses who want to cultivate long-term relationships with their customers.
Require more touchpoints in the buyer's journey: With b2b businesses, there are typically many touchpoints required as the prospect progresses from awareness, to consideration, to their final decision. Considering how much time the prospect is likely spending on Facebook, you'd be crazy not to invest in it.
Twitter
Twitter has seen a bit of a resurgence since it doubled its character limit to 280, though with 5.3 million monthly active users in Australia, it still lags well behind the reach of Facebook (16 million) and Instagram (9 million).
Pros
Great for engagement: With Twitter, it's much easier to interact with leads and customers, whether by retweeting posts, answering industry-specific questions, or responding quickly to customer service queries. You can even segment leads and customers into lists for regular monitoring, so you can be even more responsive.
Instant and real-time: Twitter is the ideal platform for breaking news or covering live events.
Cons
Less users than other platforms: As mentioned, Twitter does not have the reach of platforms like Facebook and Instagram.
Can be time and labour intensive: Tweets are very ephemeral, and people tend to check Twitter quickly, significantly lowering your chances of any individual tweet being seen. It can, therefore, take a long time and constant attention to establish a strong presence on Twitter.
Great for businesses that…
Want to appear cutting-edge and topical: Being highly responsive to events and developments in your industry can help establish you as an authority in the field.
Want to boost customer service: Many users use Twitter to flag issues with businesses, so if good customer service is a priority to your business (and it should be), then you should have an active presence on Twitter.
Instagram
With 9 million monthly active users in Australia, Instagram is a platform that should definitely not be ignored.
There's also evidence to suggest that millennials are ditching Facebook in favour of Instagram, and as this demographic moves up the ranks and into decision-making roles, it will become all the more crucial for brands to meet them where they are.
Pros
Makes brands feel more authentic: Instagram Stories allows businesses to produce real-time, ephemeral videos that give a less polished, more authentic peek behind the curtain, making them a great way to inject personality into your brand and engage followers on a deeper level.
Very high level of engagement compared with other platforms: Engagement with brands on Instagram is 10 times higher than Facebook, 40 times higher than LinkedIn, and 84 times higher than Twitter.
Cons
Difficult to leverage without compelling imagery: Instagram is first and foremost about images – which might be an issue for some b2b businesses, which may struggle to produce compelling, relevant images at the rate needed to maintain engagement.
Doesn't really help drive website traffic: With Instagram, you are only allowed one link in your bio, and there are no clickable external links unless you pay for ads. This severely limits the amount of website traffic – and, by extension, leads – you'll be able to generate via the platform.
Great for businesses that…
Want to target millennials: Even if this demographic isn't one of your main targets now, they are bound to be in the future, so it may be worth getting on the Instagram bandwagon now to prepare for that eventuality.
Have a more visual product: If you, for example, sell software that helps businesses produce beautiful infographics, then a platform like Instagram is perfect for showcasing exactly what your product can do.
Snapchat
You may be surprised to see Snapchat mentioned here, given people have been predicting its death since 2018, however the platform is still kicking, with 210 million daily active users. In fact, it still ranks in the top 10 app downloads worldwide and is second place worldwide for mobile bandwidth usage, meaning its users are very active.
Snapchat has also grown significantly in Australia, and with 6.4 million monthly active users, it still beats out LinkedIn and Twitter in Australia, with 5.5 million and 5.3 million users, respectively. So it seems that at least for the moment, Snapchat Is here to stay.
Pros
Organic feel: The spontaneous, fun nature of real-time videos means your marketing material doesn't feel like marketing at all – not to mention Snapchat users are among the most highly engaged.
Snapchat Story Ads: Snapchat Ads allows businesses to create sponsored content that appears to users in the Discover section alongside their friends' content and channels they subscribe to. With the right targeting, you can reach new, highly engaged audiences.
Location-specific content: With geofilters, users can access overlays for their snaps depending on where they are – and yes, you can create a geofilter for your business too. Snapchat's Our Stories, in which users can submit snaps about certain events (like conferences or music festivals), which last 24 hours, is another location-specific feature that is incredibly popular – one snap posted in an Our Story can potentially be viewed millions of times. These are great ways to connect with local customers, and can be especially fun tools for event marketing.
Cons
Very temporary: By definition, Snapchat is highly time-sensitive – you only have a few seconds to get your message across before it disappears, so you need to make sure it's specific and very targeted. (If you're not sure whether this type of messaging is right for you, you might want to test it out with Instagram Stories first, which is fairly similar.)
Perhaps not quite the right demographic – yet: Snapchat definitely skews younger in terms of its users, so, as a b2b business, it's likely that not many of your key decision-makers are on the platform.
Great for businesses that…
Have a younger clientele: It's about knowing your audience, so if your target audience isn't on Snapchat, there's not much point investing resources in it. (Though remember, Facebook was once thought of as a platform for younger people too…)
Regularly hold or participate in events: Snapchat is a fun, quick way to connect with your target audience while at an event, whether it's by giving a 10-second behind-the-scenes look, sharing limited-time product discounts or other promotions with fellow attendees, or giving a shout-out to a customer or partner.
TikTok
Video-sharing app, TikTok, is one of the latest social media platforms to break onto the playing field in a big way. With an estimated 800 million monthly active users worldwide and more than 1.5 billion downloads, its popularity has skyrocketed since 2019. However, that doesn't mean it's the right platform for your business.
While it's easy to get caught up in the hype, a couple of key statistics will bring you back to earth. In Australia, only 1.6 million people are active on TikTok each month and 1.2 million of these (75%) are part of Gen Alpha or Gen Z, the youngest two generations, making it extremely unlikely that they are key business decision-makers given they're all under 25 and mostly still in school or uni.
So you'll have to wait another decade or two before it's worth relooking at this platform for b2b marketing (if it's still around).
Keep your ear to the ground
The social media landscape is a capricious one, and things can shift quickly, so perhaps the most important thing to bear in mind is that no social media strategy should be set in stone. Stay on top of current and upcoming trends (by, say, subscribing to this blog!), and let the data guide your way.

If you're still not sure where to start when it comes to your social media strategy, it might be time to call in the big guns – that is, an inbound marketing agency. But which one is right for you? Make sure you pick the agency that is the best fit for your business with our free 7-step checklist to choosing your inbound agency. Download it now!


Originally published on 28 June 2018. Last updated on 1 July 2020.
Brand chemistry creates brilliant content to get your brand in front of the right people. With lifecycle strategy, whip-smart word wrangling and striking visuals, our content marketing gets you results.