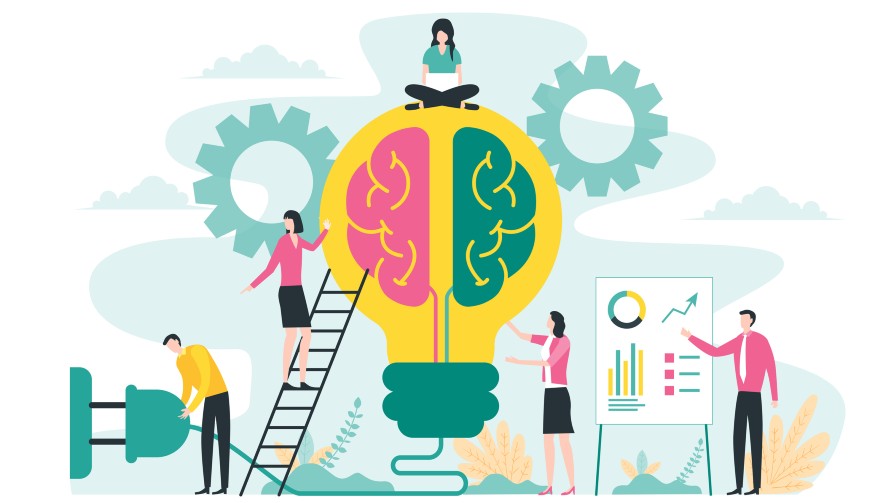 LinkedIn has evolved quite a bit in recent years. Do you remember when it was purely a place to upload your resume? Especially in the last year or so, the type of content that people post has changed completely.
These changes have ushered in a new era of thought leadership on LinkedIn. In this blog post we'll explore what has changed and why and when you might need a separate thought leadership strategy for LinkedIn.
Let's back up a moment. Why do we care about LinkedIn again?
An Econsultancy study found LinkedIn drives more than 64% of social traffic to B2B sites. And LinkedIn is considered the most credible source of content, ranked as the most-trusted social platform overall in 2020.
LinkedIn is an excellent source of leads. In fact, HubSpot found that LinkedIn is 277% more effective at lead generation than Facebook and Twitter. With those sorts of stats, what kind of B2B marketer wouldn't want to work on thought leadership on LinkedIn!
So what's changed lately?
As LinkedIn has matured, users have become more casual in what they post and how they interact. The platform has encouraged the evolution by releasing Snapchat-esque Stories, which disappear after 24 hours, and Live, which allows users to stream videos to their network and beyond.
The best bit? Casual content is performing, getting more engagement and connecting with more people. For example, LinkedIn live videos get 7x more reactions and 24x more comments, on average, compared to regular video uploads.
Not only has LinkedIn become more casual, but it's also become a lot more interactive. New features like Polls allow users to ask questions, take the temperature on issues or hot topics and engage with their extended network and followers.
Speaking of engagement, people are having more active discussions in their areas of expertise, enabled by LinkedIn features like hashtags and notifications set up to ping users to respond to trending topics.
On the flip side, we've noticed less activity in LinkedIn groups and a decrease in company updates, with users preferring content from a person, not a brand - unsurprising given the overall lean to more personable approach on LinkedIn.
Maybe this has you thinking: what can I be doing on LinkedIn? May we suggest a LinkedIn thought leadership strategy?
Why thought leadership is important
Thought leadership strengthens brand awareness and visibility while simultaneously creating credibility. It positions your leaders as the experts in your industry. The aim is to leverage your leaders' enthusiasm and expertise to address your current and potential customers' challenges and pain points. And LinkedIn, as a trusted platform with millions of users, is the perfect place to do this.
5 signs you need a LinkedIn thought leadership strategy
There are a few dead giveaways that it's time to build your LinkedIn thought leadership strategy. Tick the boxes which apply to your business:
You have a fantastic leadership team, but you're struggling to get speaking gigs for them
You are an early stage/scale-up startup with limited brand awareness
You're in a niche market with little organic search demand
Your leadership team is already actively posting on LinkedIn but not getting any traction
Building the foundations
So you've ticked the boxes, and it looks like you do need a LinkedIn thought leadership strategy. Before you jump into your strategy creation, there are some critical steps you can have your leaders take now to set them up for future thought leadership success!
We've outlined them below; why not pass them on to your leadership team?
1. Optimise the personal profiles of your leadership team
Begin with their LinkedIn profile. This is their personal profile, not your organisation's company page.
Their personal LinkedIn profiles allow your leadership team to connect with colleagues, peers, prospects... just about anyone they want. A personal profile will also enable them to send private messages and publish content directly on the LinkedIn platform.
We've written about giving your LinkedIn company page a makeover before on the Bc blog, and the same principles apply to a personal profile.
2. Connect with like-minded experts
Connecting with their colleagues and other specialists in your industry will build your team's professional network, and a peek into what they're doing will give them invaluable insights.
3. Interact with your connections
Don't let your leadership team become a bunch of creepy LinkedIn stalkers! Encourage them to add their two cents by engaging with posts, articles, videos, Stories and Lives. Not only will this draw people back to their profile, but it will also add to their credibility as a thought leader.
4. Post short updates
LinkedIn is the perfect place to share career achievements and updates. Won an award? Post. Got a promotion? Post. Got published? Post. Show their network how they're growing and becoming more influential in their field.
5. Post content
Thought leaders share their thoughts - duh! But at this point, it's time to get a little more strategic and map out the approach your leader needs to take to content.
In our next post, we'll take you through the anatomy of a successful LinkedIn thought leadership strategy, including defining goals and aligning business objectives all the way to creating an editorial calendar.
If you're considering a marketing agency to help fast-track your thought leadership success, we've created a 7-step checklist to help you choose the best inbound agency for your company.
Brand chemistry is a b2b marketing agency winning your customers' hearts and minds through inbound, brand, content, lead generation and digital strategy. Our marketing specialists achieve stellar results with the latest lead generation techniques.