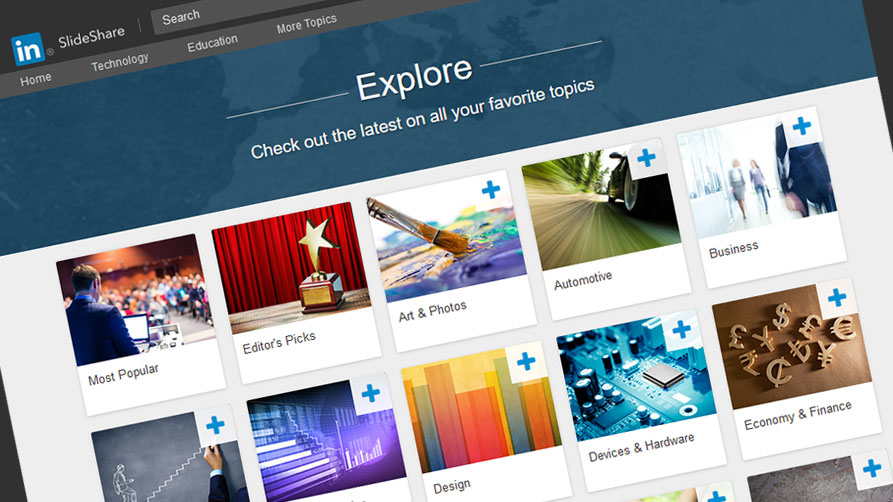 Did you know that SlideShare is one of the top 100 websites in the world? More than 70 million users visit SlideShare every month to find and share content.
B2b marketers have long used SlideShare to increase the visibility of their content and boost their status as industry thought leaders. When LinkedIn acquired SlideShare in 2012, it expanded its capability to deliver additional media formats (e.g. HD video) and functionality. Marketers who know how to make the best out of these improvements will be rewarded for creating engaging user experience and improving brand value.
Want to know how to get the best out of SlideShare? Here are a few tips on how to use SlideShare to supercharge your content marketing strategy.
Repurposing your content
Different people consume content in various ways. Repurposing your content into different formats will expand its reach to a wider audience. This also extends the life cycle and value of your existing content.
For example, your blog posts don't have to stay in a written format. If you've just written a blog post on the 11 most useful marketing tools for 2015, turn each tip into its own slide and put it up on SlideShare and other social channels. Just ran a webinar? Re-curate the content from the webinar into a series of slides and share it on SlideShare!
Turn your how-to blog posts into slides
People learn best when they're able to see images of the steps they're supposed to be following and actions they're supposed to be doing. Slides make it easy for viewers to follow at their own pace, jumping back and forth on different slides as needed. This brings us to the next point…
Insert Youtube videos into your SlideShare presentation
SlideShare is no longer just for static content. Integrate media into your presentations to make them more exciting to engage with. This is particularly useful when you need to demonstrate details as part of your SlideShare presentation. For instance, a little walk through video could really help bringing your how to content to life and is likely to lead to increase engagement with your audience.
Please note that you're only able to embed a Youtube video into a "presentation", and not in a "document" or "infographic".
Include keywords in your slide titles and descriptions
The benefits of using the right keywords in your slide titles and description come two-fold.
Firstly (and you guessed it), it has an impact on your SlideShare success. You can increase your chances of getting your content in front of the right audience by optimising your slides for commonly used keywords. According to ComScore, over 70% of SlideShare readers come to the site via direct search.
Make sure you use keywords in the name of the presentation that you're about to upload . SlideShare uses file names to form part of the URL of presentations, so remember to name your file strategically before you upload to the platform. You should also include keywords and phrases in the description and the tags of your presentation.
Secondly, content uploaded to SlideShare can have a significant impact on your Google ranking as it is viewed as an authority site. The more your SlideShare content is shared, embedded and posted on other sites, the more authority is given by search engines.
Collect leads with SlideShare forms
You may want to want to put a form before a valuable piece of content that you've worked so hard to create e.g. an ebook or a report.
SlideShare's Lead Generation function is available to all users and is integrated with Marketo and HubSpot to enable brands to easily manage and review leads. You're able to customise the fields on the form and its 'Autofill with LinkedIn' option helps in increasing conversion rate. The Lead Generation function also works on mobile and embedded presentations on third party sites.
All you have to do is set up your lead form, choose your target geographical area and allocate a total budget for your campaign. You are charged by cost-per-lead, and your campaign ends when your budget is exhausted.
SlideShare allows you to determine where the form appears in your presentation, be it after Slide 1, halfway through, at the end of the presentation, or when a user downloads your presentation.
Bc note: While it may seem counterintuitive to include a form at the end of a presentation or upon download, it may actually be the better option. People who have read through your whole presentation are likely to be high quality leads.
So, are you ready to take on SlideShare? Download our editorial calendar to start planning your content and the format each piece can be repurposed into today!
Brand chemistry is a strategic content marketing agency that goes the extra mile to deliver results for our b2b clients. Take a look at our client case studies to find out more.