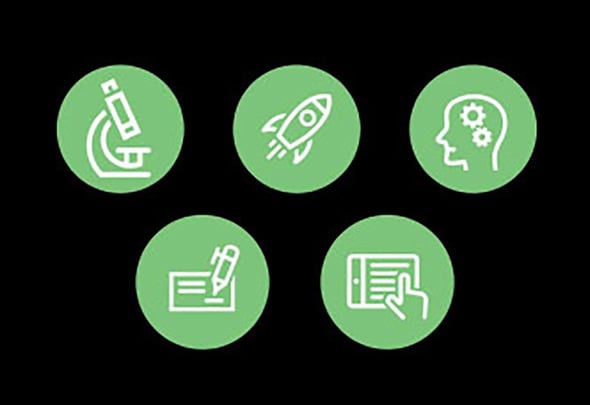 The beginning of a new year is traditionally the time when we plan our good intentions for the 12 months ahead: exercise more, drink less, get more sleep… you know the drill (and how easy it is to fall off the New Year's resolution bandwagon)! So why not try something different this year?
As well as getting yourself into shape, we alchemists think the New Year is a great time to evaluate your marketing strategy: how does it measure up? What do you need to do to align it with the trends that are set to dominate the industry?
Because let's be honest: the days when a DM mailing followed by a sales call was the go-to tactic (for anything from servers to sausages) are long gone. Once again, technology has completely changed the way modern b2b marketers work: there's a huge array of digital platforms and strategies to help you (and your competitors) build deeper connections with your prospects and customers.
So what are the marketing trends that you need to feature in your 2015 marketing plan?
Sit down, strap in and hold on for part 1 of the 8 biggest b2b marketing trends (part 2 to follow next week) that will take your marketing strategy to the next level.
Trend 1: increasing content competitiveness
The mantra is probably coming out of your ears by now, but content marketing really is here to stay. The only catch is, simply creating content and publishing it on your blog (just like everyone else is) won't give you the exposure you need anymore.
Content marketing has become a key part of every b2b marketer's strategy, meaning that the volume of content 'out there' is increasing exponentially. That's why improving the quality of your content is more important than ever.
Prospects and customers are looking for truly useful content that adds value, rather than a product-pushing pitch-fest. Educating your audience is becoming a key selling point, no matter what your industry. This means that content marketing is going to get more and more competitive, meaning you will need to spend more time planning and creating it.
Not sure where to start with your content planning? Download Bc's editorial calendar template here and get planning today.
Trend 2: documented content planning
The Content Marketing Institute (CMI) recently released a report, based on a survey of 5000 b2b marketers, stating that only 35% of marketers have a written record of their content marketing strategy.
48% said that they do have a strategy but it's not written down anywhere. The CMI also found a clear correlation between those who felt their content marketing was effective and those who had a documented strategy, and we couldn't agree with them more.
What's more, MarketingProfs found that organisations in which one person is given ownership of the content strategy delivered content much more effectively than companies that took a group approach.
The lesson? Nominate one person to own and drive your content marketing efforts. Their first task? Develop and document a content strategy that will form the basis of all your content marketing efforts.
Your content strategy should outline the topics you plan to cover and the media they will be delivered through – whether it's tweets, blogs, whitepapers or video. All of this should be plotted against the different stages of your sales funnel to ensure that you're driving demand as well as building awareness.
Also, be prepared to do some groundwork before you launch into publishing branded content. Having clear and documented definitions of your organisation's positioning and competitive advantages are key to developing a brand message that appeals to your target personas.
Trend 3: interconnected channels
SEO. Social media. Content creation. All these digital marketing tactics used to be treated as separate domains in the past, with separate specialists and even separate agencies.
The tides are now changing, with all these areas becoming inextricably linked. As a marketer you'll need to be at ease with all of these tactics and how they work together: they all have a part to play to ensure a cohesive brand experience, no matter how your customer chooses to engage with your business.
Trend 4: the decline of organic reach
As marketers are releasing more and more branded content into the digital space, the internet is undoubtedly becoming a noisier place. This means that relying solely on organic reach is no longer a viable plan for most brands.
Google is constantly changing their search algorithm to ensure that only the most relevant content and paid advertising ranks at the top of their search result pages. At the same time social media networks are pushing towards monetising their newsfeeds, making it harder for brands to achieve a wide organic reach. B2b brands will have to boost their content visibility through paid 'amplification' to ensure that it still reaches the right audiences.
Whether it's sponsored posts, promoted tweets, PPC ads or remarketing, in 2015 b2b marketers will depend more on mixing paid and owned media to boost content distribution and consumption.
Check back next week for part 2 of our top 8 marketing trends for 2015, where we'll be covering hyper-targeting, conversion optimisation, 'Smarketing' the latest developments in data-driven marketing.
Feeling inspired and are itching to get started with your marketing plan? The Bc team has done some of the legwork for you and investigated which marketing tools will help you gain a competitive advantage in 2015. We've listed the 12 must-have tools that every marketer needs in this handy guide - download it today!
Brand chemistry is a b2b marketing agency focused on delivering quality leads and measurable results for our clients. Take a look at our client case studies to find out more.