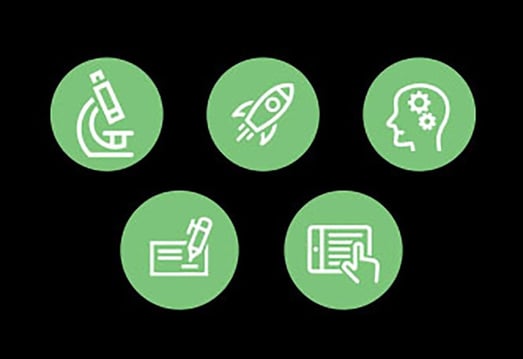 Marketing is changing fast and it can be tricky for marketers to stay on top of what's going on in the industry (let alone knowing what's relevant for your business). To make your life a wee bit easier, we've put together the 8 biggest b2b marketing trends that are set to shape the industry in 2015.
In part 1 of our review, we took a closer at the first four big trends, including:
increasing content competitiveness
documented content planning
interconnected channels
the decline of organic reach.
But these trends are only part of even bigger changes to come. So without further ado, here is part 2 of our marketing trend review.
Trend 5: hyper-targeting and personalisation
By now, you have probably mapped out your main buying personas and are creating content that addresses their needs. A great start! But it is really only the beginning of what's still to come.
Advances in personalisation technology mean that you can now target content much more tightly. This year, data and analytics will enable you to gain a much better understanding of your target audience and respond to each prospect in real-time with targeted messaging (yep, it's a real game-changer).
Personalisation and automation mean that marketing is getting ever closer to being able to communicate with prospects one-on-one in response to the actions that they have taken online, keeping them moving them through the conversion funnel.
Trend 6: focus on conversion optimisation
Attracting visitors to your website is one thing, but encouraging them to take action is quite another. Even the most well optimised landing page is only likely to have an opt-in rate of below 20%.
So what's the answer? Continuous testing and tweaking of your web pages (whether it's the complete design of a landing page or just a headline) will help improve conversion, now and in the future.
What's more, improved conversions will help you grow your business more effectively. After all, if you can double the effectiveness of a landing page and convert more prospects into clients, you can afford to up your media budget a little, driving even more relevant visitors to your website. And because your website is constantly improved for conversion, you will attract more customers in the process.
Trend 7: closer collaboration between sales and marketing
Brace yourself. 'Smarketing' is coming.
As inbound marketing moves prospects further along the sales funnel, sales and marketing are going to have to work together, patch up their differences and play nicely in 2015. This means that companies that operate sales and marketing as two siloed departments will be put at a huge disadvantage.
A truly collaborative approach to sales and marketing requires an entirely new mindset, based around increased communication and well-aligned procedures and reporting.
Trend 8: data driven marketing
A study by the IT Services Marketing Association found that 85% of marketers agree that there's an increase in pressure to show business value. It's been on the cards for a while, but 2015 is the year when marketing ROI and quantified results will be the defining metrics for marketers.
Even the more abstract disciplines like design, advertising and social media will be subject to performance tracking and predictive analytics with a focus on driving measurable results.
Questions around which channel is performing the best, which piece of creative and why, will become increasingly important as marketers look to improve their effectiveness, as well as optimising conversions on-site.
Bc's tip
Now, we alchemists want to help you to stick to your marketing New Year's resolutions. A surefire way to develop a successful marketing strategy, is by setting S.M.A.R.T goals (specific, measurable, achievable, realistic and timely) at the very outset.
What's more: we'd recommend to pick three trends that will deliver the biggest win for you and incorporate them into your plan. It will get you moving in the right direction without having to learn too many things at the same time. If we had to decide which trends to implement, we'd vote for:
developing and implementing a documented content strategy
strategically linking paid and earned media
optimising your website and landing page for conversion.
Feeling inspired and are itching to get started with your marketing plan? The Bc team has done some of the legwork for you and investigated which marketing tools will help you gain a competitive advantage in 2015. We've listed the 12 must-have tools that every marketer needs in this handy guide - download it today!
Brand chemistry is a b2b marketing agency focused on delivering quality leads and measurable results for our clients. Take a look at our client case studies to find out more.